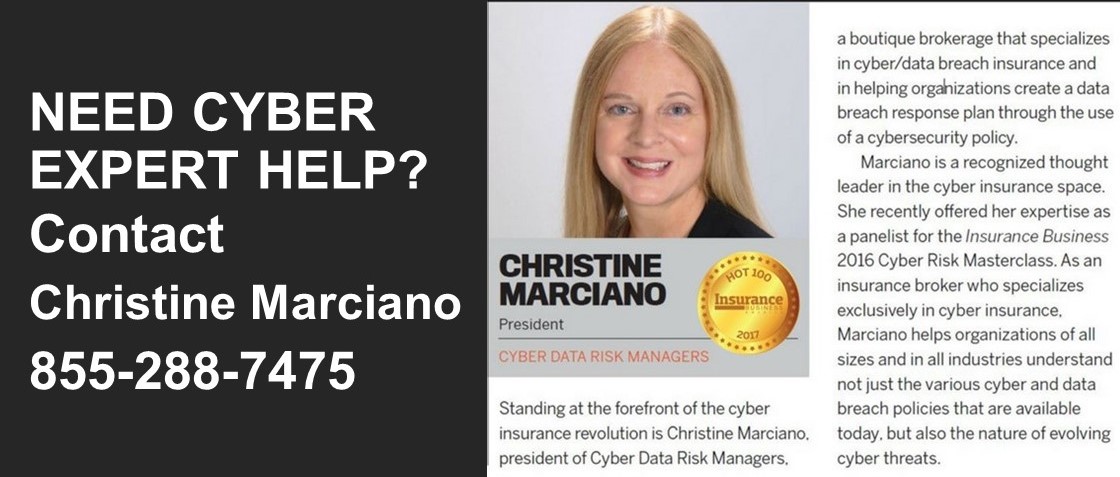 Christine Marciano is President/CEO of Cyber Data Risk Managers, one of the fastest-growing and highly experienced cyber insurance brokers in the industry.
Christine has over 20 years of experience working in various roles within the Insurance and Financial Services industry. Christine has held positions at CIBC Oppenheimer, Axa Advisors and Allstate Insurance Company.
As a fully licensed Insurance Agent, Christine specializes in Cyber/Data Security and in helping businesses and organizations create a Data Breach response plan through utilization of a Cyber Security/Data Breach insurance policy.
Christine is a member of the International Association of Privacy Professionals (IAPP) and is a Certified Information Privacy Professional (CIPP-US).
Christine is a recognized cyber insurance thought leader and one of the rare few brokers that specializes exclusively in cyber insurance.  She greatly values her clients and industry partner professionals and helps organizations understand not just the various Data Breach/Cyber Insurance policies that are available today, but also the threats of today and the trends of tomorrow.
---
PRESS ARTICLES
Christine Marciano, President/CEO, Cyber Data Risk Managers is frequently sought by the press for comment on data breach/cyber insurance developments, trends and tips.
Christine Marciano in the Press
---
CONTACT CHRISTINE
---
CONNECT WITH CHRISTINE